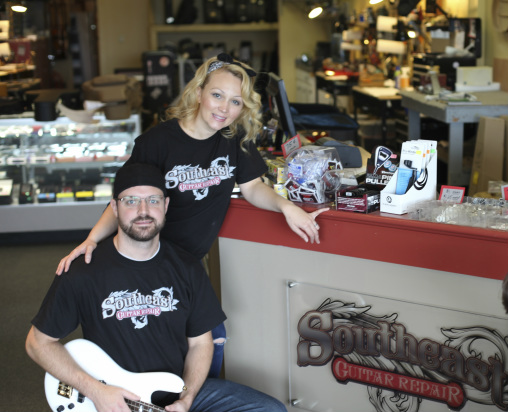 The Greatest Guitar Repair Shop In The Universe!
Here at Southeast Guitar Repair we have the highest of standards when we bring on team members. Every Luthier in our shop has graduated from Lutherie school. And upon their certification, they apprenticed under Master Luthiers many months BEFORE coming onboard as a SEGR Luthier. Every Luthier at Southeast Guitar Repair actively builds instruments from raw lumber, which is imperative for knowing the ins & outs of performance & capabilities of an instrument. We only want the best luthiers here. Since guitar repair is our only business, we have a few luthiers in our shop. Everyone follows the same shop specs & methods. If you have a preferred luthier you would prefer to work with, please let us know when you drop off your instrument. We always accept special requests. All of our techs respect the client - tech relationship. Building a personal relationship with your luthier is like building a relationship with your doctor.

Mike Marshall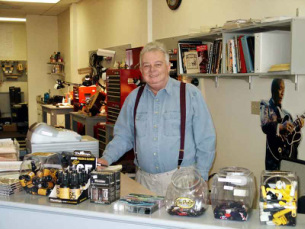 Mike received his first guitar as a gift in 1956 at the ripe age of 14. The guitar was damaged and in dire need of repair before the guitar lessons could begin. An old Kay archtop was the patient that Mike brought back to life (and dearly wishes he still had!). The next 3 guitars Mike got also needed a good bit of work to make them playable, and the love for repairing guitars was ignited.

Mike studied guitar with Clair Buzzard, who toured with most of the Big Bands during the late 40's and early 50's, and quickly found his love for Jazz and the styles of Kenny Burrell, George Benson, and Joe Di Orio. Over the years, he played with many different types of bands, the last with Woody Guthrie and the Saratoga Blues Band.

Certified by major manufacturers (Fender, Gibson, Guild, Yamaha etc..) to perform warranty repair, Mike went on to become a graduate of the Luthiers International School of Guitar Building and Repairing. He is also a member of The Guild of American Luthiers as well as The Association of Stringed Instruments Artisans. While Mike is the chief luthier, his standards are extremely high for his other staff members.


Mike first opened up Southeast Guitar Repair in the Mars Music on Pleasant Hill Rd. When Mars Music closed it's doors, he moved into his own shop just doors down in the same shopping center.


---
Barrett Culpepper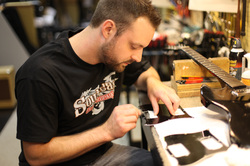 Veteran Certified Master Luthier Barrett has been with Southeast Guitar Repair for over a decade. Originally starting at the old shop next door to Guitar Center off Pleasant Hill Rd. Barrett is now located up in Buford.


Finding his love and passion for music by age 10, he started repairing guitars and drums at age 14. Within the same year he was playing shows in Downtown Atlanta, beginning the networking of his musical career. After years of gigging & playing out he graduated & obtained his certification from Luthier school. Within weeks he was apprenticing under Mike Marshall at Southeast Guitar Repair in Lawrenceville. After years of mastering his craft, he is now leading the team at Southeast Guitar Repair. Barrett holds a Fender Gold level certification and our shop is Gibson level A+ certified.


Barrett prides himself on every instrument that hits his bench. People drive from all over Georgia & other states and even ship guitars to him. He has a tons of high profile clients, but he treats every guitar like its playing a sold out venue. A broken guitar neck? You will not find a prettier repair than his. He is named in so many forums across the internet. He has very high standards for his benchwork and every other luthier in his shop. He is a wiring & electronics fanatic which really sets him apart from your average luthier. From full rewires to bass pre-amp work, he can handle it all. He can diagnose & fix any guitar. He has developed methods far beyond his time to restore the instrument while still maintaining the characteristics you love in your guitar that will not sacrifice its value or original state. Even Fender ships guitars from their other "authorized service centers" straight to Barrett. They know who the best in the US is & always trust his expertise. Many customers of high end & vintage pieces weary to trust just anyone, will call Fender looking for their professional advice on where to have their instrument repaired or just maintained & if the location ins't a concern, Fender will send you to Barrett Culpepper at Southeast Guitar Repair.

A real player makes the best luthier and can understand what is going on with your instrument and tweak it just right to get the most out of it, the way the guitar maker has intended. Barrett has the best bone work in the business. Guitar schools have tried to lure him to tech bone work classes for their students but he has declined each time. A detailed perfectionist in the field through & through.
---
Fran Gilbert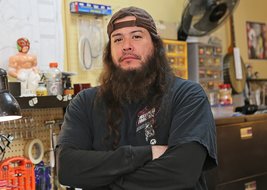 Fran has been in the music scene for decades. You may recognize him as the guitar player & front man of the band Love Buzzards. He has a great love for music and is the perfect addition to the shop. His vast knowledge in the field is just what the shop needs.
---
Josh Davis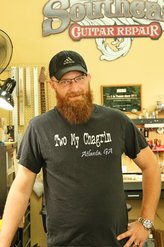 Josh has an extensive background in wood working & finishes. The knowledge he has built up over his many years in the industry is very helpful in the shop. He is also our resident metal head.
---