Southeast Guitar Repair can handle it all...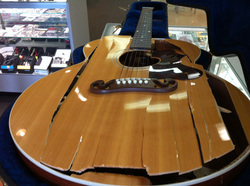 From guitar Setups to Full Restorations, our Luthiers have the experience you can trust for all of your fretted or stringed instrument repair needs. We service every type of guitar as well as banjos, mandolins, violins, upright bass, requintos, guitarrons, ukuleles, auto harp, cuatros, dobros, resonators, Bajo Sextos, and everything in between.
Acoustic Guitar Setups
Electric Guitar Setups
Bass Guitar Setups
Classical Guitar Setups
Floyd Rose Guitar Setups
Resonator Guitar Setup

12 String Guitar Setups
Banjo Setups
Mandolin Setups
Guitarron Repairs
Fretless Bass Conversions
Guitar Kit Assembly
Custom Builds
Vintage Guitar Restorations
Flood Damage to Guitar
Smoke Damage to Guitar
Fire Damage to Guitar
Re-strings
Classical / 12 String Re-String & Setups
Violin Setups
Strap Button Installed
Output Jack Replacement
Tone & Volume Pot / Potentiometer Replacement
Switch Replacement
Electric Pick Up Installation
Acoustic Pick Up Installation
Side Sheet Mounted Pre-Amp
Replace Tuning Machines
Custom Bass Ramps
Custom Hand Carved Bone Nut with Full Setup
Custom Hand Carved Compensated Bone Saddle with Setup
Full Bone Work (Bone Nut, Bone Saddle, Setup)
Fret Dress (Level, Re-Crown, Polish Frets & Full Setup) AKA Fret Job
Re-Fret (replace frets)
Broken Guitar Headstock (with Minor Touch up & Setup)
Lifting Acoustic Bridge Repair / Replacement (includes Setup)
Bridge Repair / Replacement (includes Setup)
Replace Bridge Plate (Reduces Belly Bulge, Includes Setup)
Bridge Dr. Installation (Includes Setup)
Body Routing Electric Guitar & Bass Guitar
Guitar Neck Resets
Custom Pickguards
Crack Repairs
Inlay Replacement & Custom Inlay Designs
---
Your Instrument Is Safe Here
All work is performed in our shop. (We are not a repair shop operating in someone's garage, apartment or parent's home.) And not a single repair is outsourced to anyone or ever leaves our shop. We stand behind our work. Many Atlanta area music stores bring the guitar repairs they can't handle as well as their customer repairs here to us. Our facility is climate & humidity controlled at all times. So even lengthy stays here are not stressful to the instruments. Our shop carries adequate insurance coverage, to keep your instruments protected and peace of mind for you during its visit here.

All of our repairs are guaranteed
30 days on all repairs. We always back our repairs at SEGR.